TOMI SUSHI Singapore ECHIGOTEI

Information
You can have a good time having sushi and sashimi at Tomisushi Echigotei, we also offers skewers and Niigata of distinctive cuisine. The live seafood imported directly from Japan are kept in the water tank in front of the restaurant, will be cooked at your request. You can enjoy our various kinds of meal and Niigata Sake in the open-air terrace. A la carte menu have been generous to prepare than other outlets. You can also enjoy combination of cuisine to suit your choice of Sake. We are open until late at night, which is suitable for those who have been working late.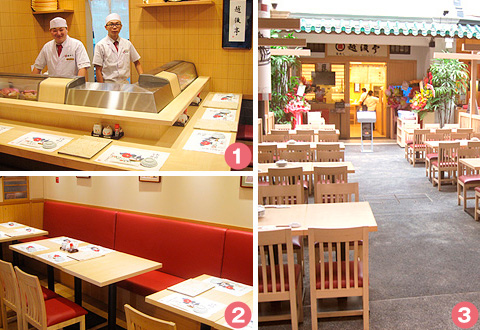 ①Counter (max.7persons)
Best for enjoying the true charm of SUSHI bar. You can watch a lot of fresh sea food flown from Niigata. You can watch performance of Sushi-making. Talking with chef is also big fun.You should try it!
②Booth (max.12persons)
Best for family. You can have a good time even with small children.
③Open-air Terrace (max.60persons)
Best for get –together with your friends, colleagues and your loved ones.

Menu

Particular About

KOSHIHIKARI Rice
We use 100%
Niigata KOSHIHIKARI Rice.
The best brand rice of Japan.

Salt from the Sea of Japan
From rough sea
''the Sea of Japan''
Mild and richer rich taste.

Soy sauce only for Sushi
Traditionally brewed soy sauce,
the most suitable for Sushi.

Soy sauce only for Sashimi
Carefully selected, special soy sauce by TOMI SUSHI.

ADDRESS:
35 Cuppage Road, Cuppage Terrace,
Singapore 229460
Tel: 6333-4633
Opening Hours:
16:00-23:30(L.O.23:15)
Copyright © 2011 TOMI SUSHI All rights reserved.